Give People What They Want
Set your website apart by giving consumers better tools to search, collaborate, organize, and work with you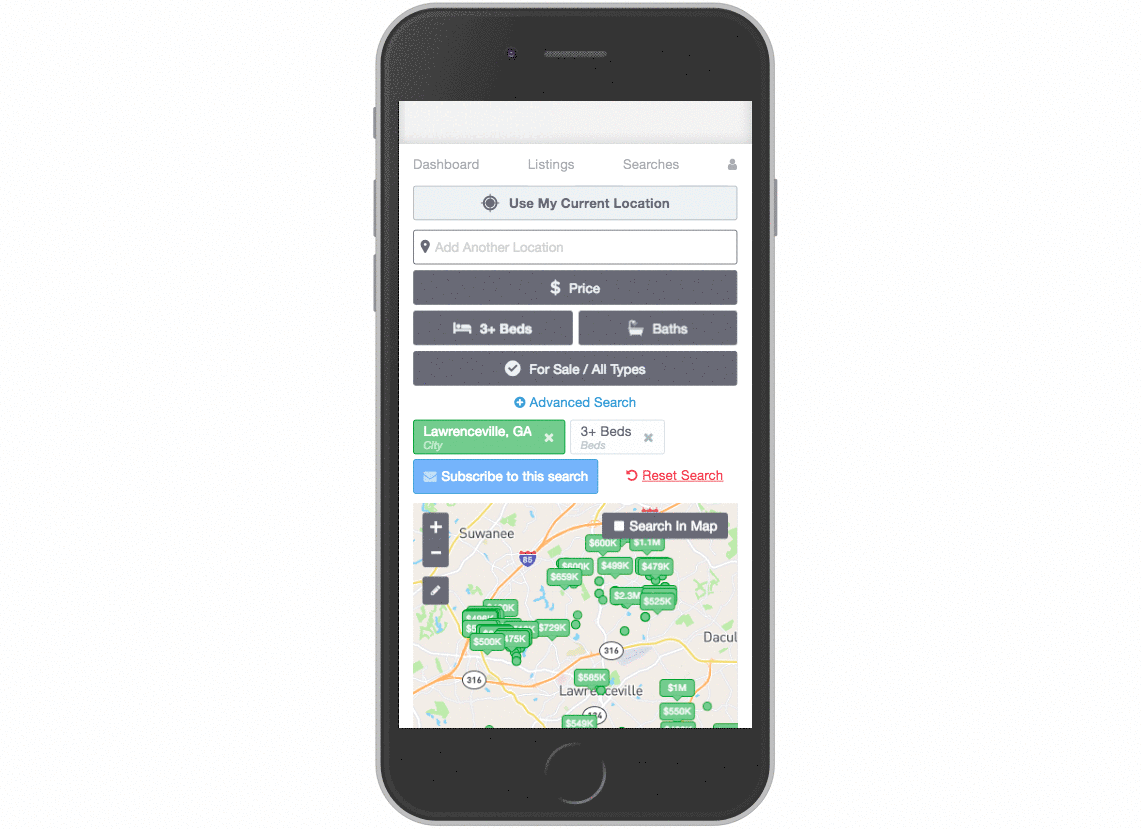 Mobile device usage is not going away. In fact, it's increasing all the time. That's why your website needs to engage users just as well on their phones and tablets as it does on their laptops. We're serious about providing a beautiful mobile experience for your website visitors. Showcase IDX doesn't just squish everything into a smaller space, we make sure it looks and works great on any size screen.
Current Location Search
The "Use My Current Location" button allows smartphone users to search for homes in the area where they are.
Call About This Listing
The "Call About This Listing" button connects directly to the user's phone so they can call you instantly.
Mobile Optimized
We've tested Showcase IDX on the most popular mobile phones, tablets, and mobile browsers.
Search Parity
We've made sure the experience on mobile devices mirrors the desktop experience, down to the smallest detail.
Our research found that existing home search tools weren't really meeting the needs of the average home buyer. One of the most important things we noticed was that the majority of people don't search alone for a home. There's more than one stakeholder or influencer in most transactions.
That's why we took the time to build some truly useful and unique tools that allow people to collaborate with their partner, family members, or friends during their home search. Members of what we call a Search Party can comment, react, get organized, and see each other's activities during their home search.
From an agent's perspective, Social Search is a win/win. You have the opportunity to take one lead around a potential transaction and multiply it. If one person in the Search Party goes dormant, another member's activity can bring them back to your website. It dramatically increases engagement on your site, bringing consumers back time and time again rather than letting them drift off to Zillow or a competitor's site.
Search Together
Each user has their own account but can see and interact with their friends' activity.
Invite Family and Friends
Users can easily invite others to join their Search Party home search.
Listing Reactions
Emoji reactions help users quickly organize and communicate their feelings.
Private Commenting
Search Party members have the ability to privately discuss listings.
Agent Commenting
Agents can easily be invited into comment threads when the consumer is ready.
Multiply Your Leads
Get multiple real and valid contacts for one potential transaction.
Consumer Tools
Our social dashboards and organizational tools are powerful and useful.
Increased Engagement
Build a community around your website with our consumer tools.
Whether you are on an IDX site or large home search portal, it's safe to say that the tools for consumers to organize and manage their home search don't match up with how people actually search. Most limit users to saving listings and searches, but many people don't do those things, and most people aren't searching by themselves.
We started from scratch, asking ourselves which tools would be the most likely to meet the needs of online consumers searching for a new home with their partner, family members, or friends. We created useful features that allow people to communicate with each other about listings, collaborate in their search, and see everyone else's activity.
Our goal is to help you engage consumers on your website by giving them tools they can't get anywhere else and providing them with an easy way to reach you when they are ready — all while respecting their privacy.
Consumer Dashboard
Every consumer has their own dashboard where they can track their activity in a timeline. If they have a Search Party, they'll see that activity too.
Listings Tool
This tool lets consumers work out their shortlist with the help of their activity and the activity of members of their Search Party.
Searches Index
This tool allows consumers to subscribe, unsubscribe, and manage their Search Subscriptions and Agent Recommended Searches.
Built to Be Social
Showcase IDX was created, from the ground up, with the understanding that more than one person is involved in most home buying decisions.
Search Party
Consumers can invite family and friends to their Search Party, where members can see each others activity and communications.
Great for Individuals Too
We didn't forget about individual home buyers. All of our tools work just as well for people who are searching by themselves.
Saved searches are typically better in theory than in practice. We wanted to change that. Step one was to change the name to indicate exactly what it is: Search Subscription. Next, we implemented functionality that made it easier and more pleasant for consumers to manage their Search Subscriptions — functionality that we found was shocking lacking in most other online home searches. We added things such as the ability to "Save As," undo changes, save changes, edit notification settings, and easily delete Search Subscriptions.
For agents, we offer the ability to send Recommended Searches to leads. These act just like Search Subscriptions (learn more in the Agent Features section).
Subscribe to Searches
Just "saving a search" doesn't express the real value of getting valuable updates by subscribing to a search.
Email Notification Options
Consumers can get instant, daily, weekly, or monthly updates, depending on where they are in their home search journey.
Easy Management
Consumers can easily view and manage the notifications for their Search Subscriptions on their Search page.
Editing and Duplication
Most other IDX saved searches don't provide helpful tools to edit, undo, and duplicate. So we do.
Timely Information
Search Subscriptions send consumers information on new listings, price changes, and upcoming open houses.
Agent Branding
You can customize the header and footer of Search Subscription emails to reinforce your personal or team brand.
Showcase IDX search starts off simple then reveals more useful advanced options than any other IDX on the market. It is familiar enough that the average internet user will immediately know what to do, but powerful enough that you'll have a sizable advantage over portals that only allow users to search for the basics.
Location Search
Search for cities, ZIP codes, subdivisions, streets, buildings, or addresses with top result previews.
Flexible Price Fields
The price field is flexible, so the default price options can be adjusted to be higher or lower based on your market.
Listing Types
We give consumers the ability to choose exactly which listing types they want to search for. The options are set by you.
Property Types
We let consumers choose from all the available property types that we can get from the MLS.
School Search
Consumers can search by school district, elementary school, middle school, or high school, depending on available MLS data.
Year Built
Consumers can search for for homes built in individual years or ranges of years.
Days Online
Searches can be filtered by the exact number of days a listing has been online or a range.
Lot Size
Buyers can search for ranges of lot sizes in acres… from small city lots to massive rural lots.
Interior Area
Consumers can search within a square footage range, by typing exact numbers or selecting from a list.
Listing Status
Users can search by listing status. Agents have full control over which statuses are displayed.
MLS ID
Sometimes, you just need to look up a listing by MLS number. We've made it very easy to do that.
Price Change
We provide the ability to search for listings with price changes within a certain timeframe.
HOA Fees
More and more people are moving into communities with HOA fees, so our search includes this information.
Open Houses
Consumers can find upcoming open houses posted in the MLS during the next week or view all upcoming open houses.
General Features
The features users can search by vary from MLS to MLS, but include Style, Sewer, Basement, Construction Status, Interior Features, Boat House, Lot, Energy, Stories, Special Considerations, View, Road, Parking, and more.
Interior Features
The interior features users can search by vary from MLS to MLS, but examples include Heating, Cooling, Flooring, Rooms, Bedroom, Interior, Fireplaces, Kitchen, Master Bath, Equipment, Kitchen Layout, and more.
Exterior Features
The exterior features users can search by vary from MLS to MLS, but examples include Construction, Roof, Waterfront, Lot, Pool, Exterior, and more.
Community Features
The community features users can search by vary from MLS to MLS, but examples include Amenities, Pet Restrictions, Annual Association Fees, Lake, and more.
Location is everything, and there's no better way to see listings than on a map, but not every map is created equal. Our maps show the first 100 results as markers with prices — with additional summary detail when the user hovers over them. The next 100 results (depending on results sorting) are shown as small dots. These can also be hovered over and are clickable to take users to the listing page.
Polygon Filtering
If you're creating a hotsheet and want to get very specific in your map search, just add one or more polygons to the map.
Multiple Polygons
You can add more than one polygon on the map if you are searching in a very particular area that requires it.
Mobile Optimized
The mobile version of the mapping interface is optimized for use on phones and tablets.
Polygons For Mobile
Showcase IDX lets you use your finger on your phone or tablet to draw a shape to search within on the map.
Editable Polygons
Want to make a change to your polygons? Now you can do so without having to delete and start over.
Map Bounds Filter
This allows you to use the current view of the map as a search filter, without drawing polygons.